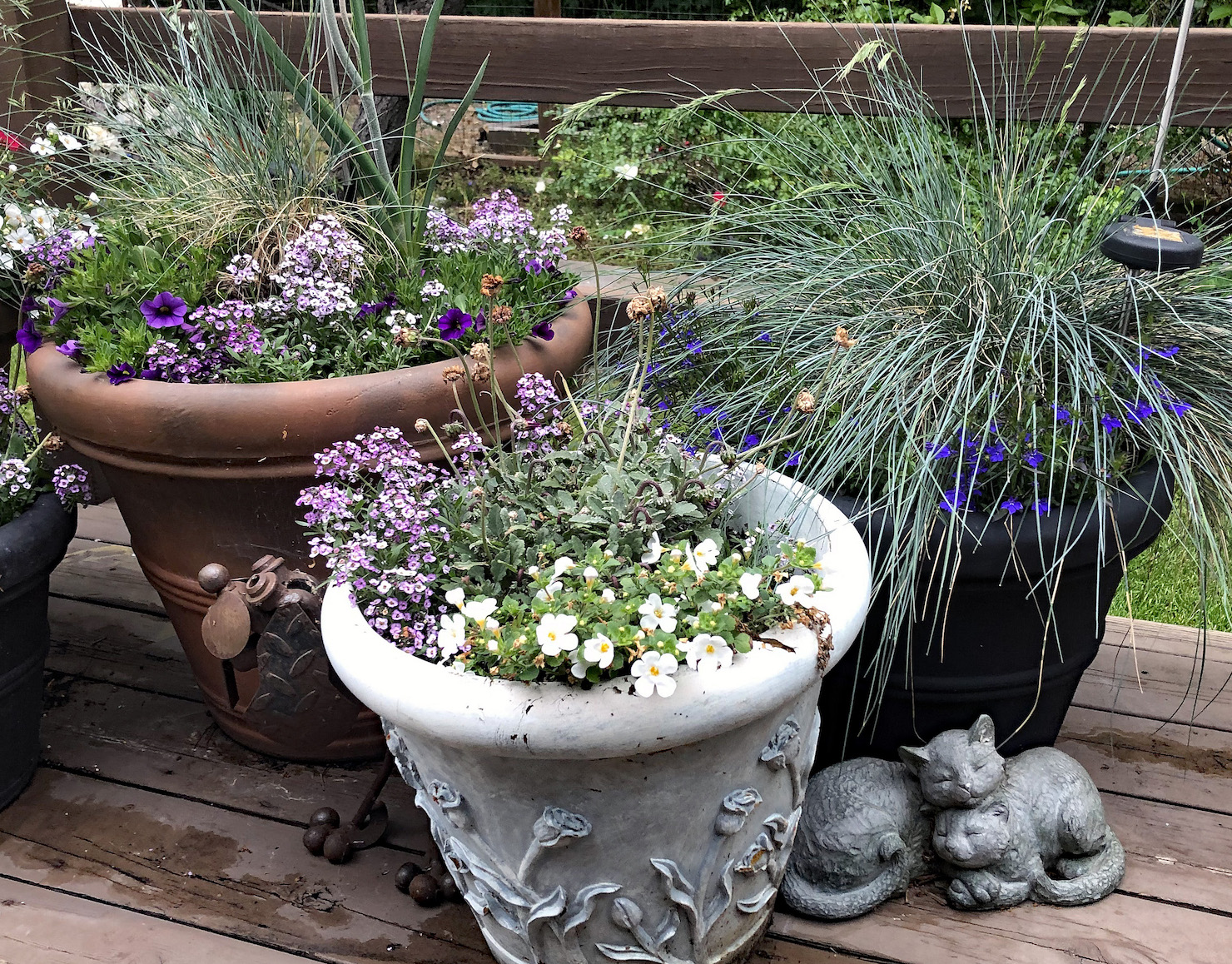 Question:
My neighbor has left me several twenty four-inch pots. What can I plant in them that like lots of sun and are evergreen?
Answer:
Today's trend in container gardening is to plant many different types of plants such as ornamentals, grasses, succulents, herbs as well as edibles in a single container. Typically, if it can be planted in the ground, it can also be planted in a container; hence, you have a wide and varied selection of choices.
Citrus is by far the most popular individual plant in a pot. To start, I'd use sunset magazine or any other gardening publication as a source of inspiration. You'll find many examples of mixed containers being used to enhance areas such as entryways, decks and patios.
For a twenty four-inch pot, you'll need a tall focal point, a few medium-size plants and then something low to use as filler.

I'd use mounding or cascading plants as filler, so they spill over the sides to soften the sides of the pot.

Here are a few suggestions for a focal point. Nandina, Heavenly Bamboo has beautiful foliage color, gets berries in the fall, and is visibly light and airy. New Zealand Flax looks like a giant grass and is very sculptural. Dusty Miller has silver-gray foliage with yellow blooms in the summer.
Any of the many grasses like Variegated Ribbon or Dwarf Fountain Grass can also be used. You could surround the focal point with the pink flowering Society Garlic or Lily of the Nile with blue flowers. They are available with both gray and green leaves. The yellow foliage of the Summer Gold Agapanthus is striking.
Another option is the maroon leaf Corral Bells. Filler plants include Verbena Tapen, Million Bells or Bacopa, which will flow over the sides of the containers.

Seasonal color like Marigolds, Impatiens, Pansies, Iceland Poppies, Alyssum and Trailing or Upright Lobelia is added to complete the year-round color scheme.
Do not forget that Parsley, Basil, and Rosemary make a dramatic impression in mixed containers.
The containers can be identical. However, I'd prefer to mix the combinations up. I might reverse the foliage color between the focal point and the surrounding plants using the filler plants to accent the groupings.
Once you have an idea of what you want. I then visit your local garden centers a view of what's available

 A couple of final thoughts, the containers are kept fresh looking by changing the seasonal color. It takes very few plants or time to give them a new look.

The biggest maintenance issue is water and nutrients. You have perfect drainage in a pot so I'd water them daily when the temperatures are over seventy-five degrees.
In addition, the containers should be off the ground to allow the water to flow freely out the bottom.
Some type of mesh or screening material is placed at the bottom so the soil doesn't wash out and feed every four months with Osmocote. It releases a little bit of nutrients every time your water.

 
Question:
I have an olive tree growing indoors in a northeast window. Although it's generating new growth, some of the old leaves are turning brown at the tips and curling. What can I do to prevent any more damage?
Answer:
Olive trees are normally not used as a houseplant. They grow very big and require a lot more direct sunlight. then a normal house can give. In the landscape, they like at least six hours of direct sunlight.

 

But, having said all that, there are always exceptions.
The brown leaves and the associated curly is more than likely a watering problem or an exposure issue. Typically, Olives don't require much moisture as they are considered a drought-tolerant tree.
Indoors, I'd probably water them once every three to four weeks. You do need to make sure that the entire root ball gets wet every time you water and remove all the excess water from a saucer or other container.
Also, the older leaves will drop off naturally. You'll never completely stop the falling leaves. If moving it to a sunnier location is not an option, you may just have too live with the problem.