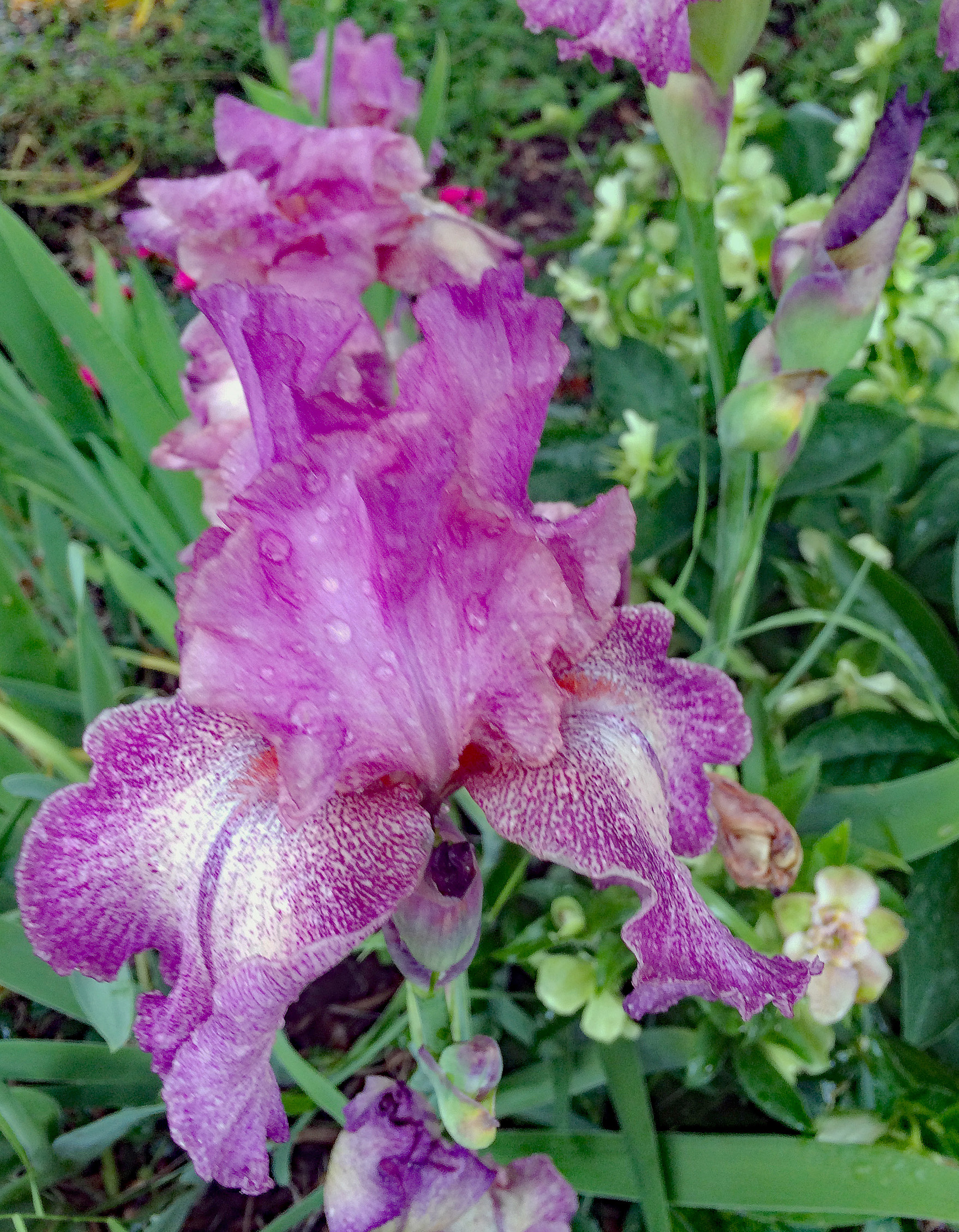 Question:
I'm going to divide several old clumps of Bearded Iris. I've been told this will increase the blooms as the flowers have declined over the years. Is there anything special I need to do?

 
Answer:
After dividing your Bearded Iris, there isn't anything special one needs to do to the roots/tubers before planting. You would prepare the soil by adding organic matter like soil conditioner or homemade compost and starter fertilizer. Since you are planting multiple plants I'd amend the entire planting area instead of individual holes.

 

Bearded Iris is a very shallow-rooted perennial. The key to planting them is not to bury the tubers. The proper planting technique has the tubers visible, with half or more of them exposed above the soil line.
It is beneficial to divide the clumps periodically, but the clump's age or density doesn't affect blooming. You'll find a reduction in flowers in those areas that become shadier over time with a maturing landscape. But, the primary reason mature clumps stop blooming is from a nutrient deficiency.
The primary elements necessary for plant growth are Nitrogen, Phosphorus, and Potassium (N-P-K). Nitrogen (N) keeps plants green while Phosphorus (P) and Potassium (K) are for flower, fruit production, and plant hardiness. Bearded Iris stops flowering when Phosphorus and Potassium are exhausted.

The clumps' fringes continue to bloom because the new roots are expanding into areas where the nutrients haven't been depleted. During the winter months, the flower buds form; hence, fertilizing in the fall and winter is critical for the spring blooms.
Monthly applications of 0-10-10 (N-P-K) through March is suggested to remedy this issue. 0-10-10 is available in both liquid and granular form. There is no need to be concerned about the winter rains leaching the nutrients out of the root zone unless soil erosion is an issue.
Phosphorus and Potassium remain fixed in place and have little movement through the soil, unlike Nitrogen that is very mobile. Right now, I'm inclined not to divide the clumps. Instead, I'd wait to see how they bloom next spring after the winter feeding program. If the problem continues, then I'd move them next year.

 
Question:
I'm revamping my rose garden and need to know when is the earliest time I can do so? Can I successfully move established roses to another location?
Answer:
You can start transplanting roses starting around the middle of November or when the daytime temperatures are below seventy degrees. I might first reduce the height and sides to make the size of the bushes more manageable. It's a judgment call on your part to continue the winter pruning or wait.
If the new site isn't ready because Mother Nature interrupted your plans, you can temporarily transplant them into large paper or plastic pots. Your favorite garden center is a good resource for temporary pots.

 

you can place multiple plants in the same pot until February. They're watered periodically and store out of the elements until you are ready to plant.