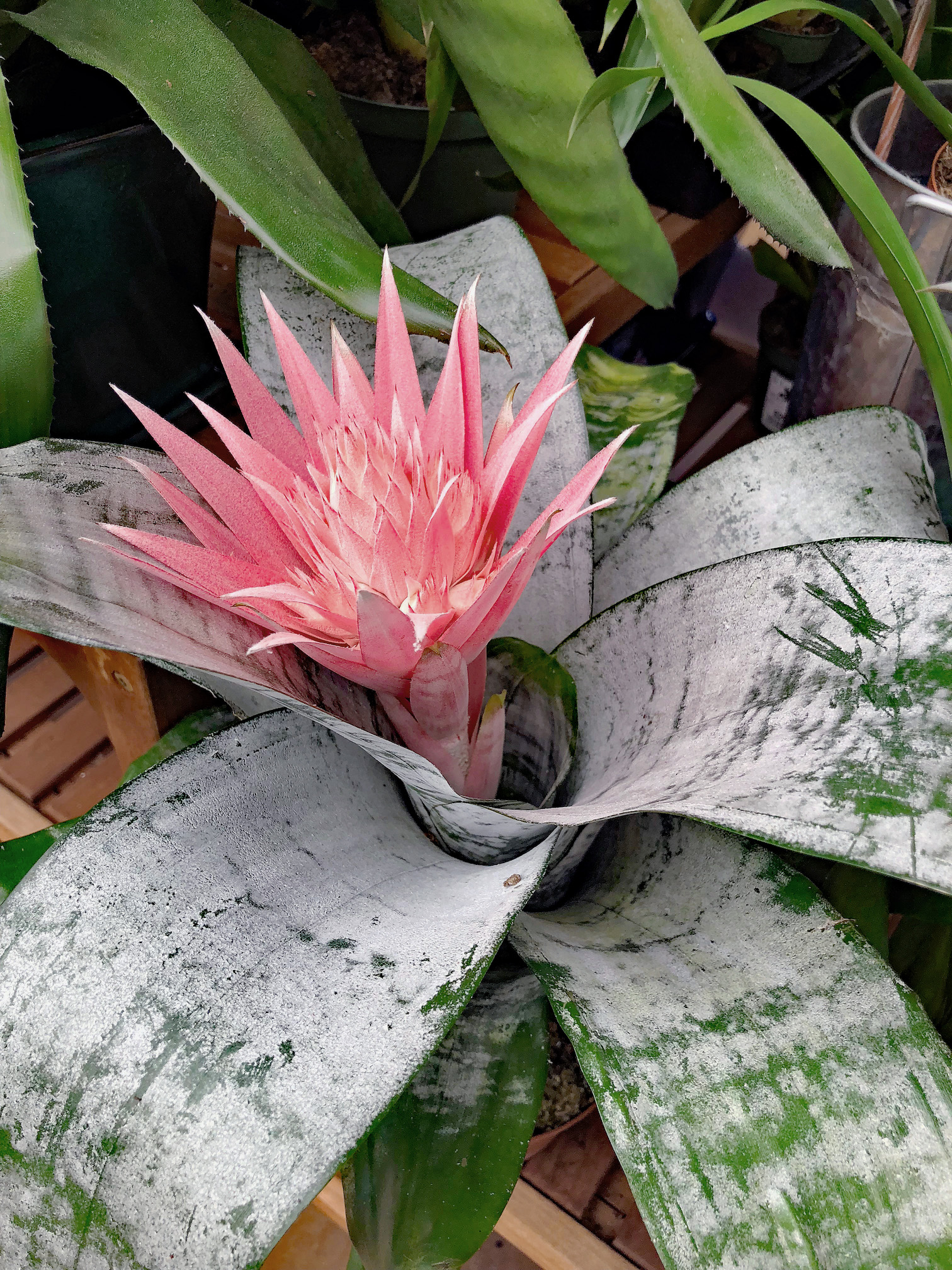 Question:
 

How do you get a pink Bromeliad to bloom again? Someone suggested that I put the plant in a bag with some cut up apples. Also, how long can I keep it as a houseplant?
Answer:
All Bromeliads have colorful, long-lasting flowers, and some varieties have brilliant foliage (see the note below). Bromeliad Aechmea has large, silvery-green leaves with a pink flower radiating from the center.
I believe this is the variety you have. They make an excellent, long-lasting houseplant because they adapt to the unfavorable, growing conditions in most homes. However, each plant only blooms once.

You cultivate the pups or new plants that formed at the base. The big leaf Bromeliad varieties withstand the brightest light level and direct sunlight. Other species with soft, green, thin leaves grow best in low light conditions, such as Tillandsia. Most bromeliads are epiphytes. They grow in the canopy of trees in their natural habitat, where they anchor themselves by their roots to the tree trunks.
They don't have extensive roots, so they are adaptable to being grown in relatively small containers. Bromeliads are incredibly tolerant of low-moisture conditions and will survive prolonged periods of drought.
As a container plant, most Bromeliads' problems are usually associated with root rot caused by excessive moisture. Growing these plants in a light, porous potting mix that drains rapidly should help prevent this problem. Also, plants growing in plastic or other non-porous containers are watered less frequently than those in clay pots. Now to your question.
Bromeliads can be forced into bloom by exposing the plant to ethylene gas. Many fruits release ethylene gas naturally. To encourage your bromeliads to bloom, place the plant inside a clear plastic bag with sliced apples for ten days. During the aging process, the apple slices emit ethylene gas that, in turn, induces the formation of flowers.
The plant bloom again in six to fourteen months.
NOTE: The Bromeliad plant family, Bromeliaceae, consists of fifty-one generas and is broken down into three subfamilies, Pitcairnioideae, Tillandsioideae, and Bromelioideae. The Bromelioideae members' foliage has attractive colorful markings and patterns, and the leaf edges/margins are spiny. Aechmea, Billbergia, Cryptanthus, Neoregelia, and Nidularium are the most popular varieties of this group. The varieties Guzmania, Tillandsia and Vriesea belong to the Tillandsioideae family. They have smooth leaf margins, unusual foliage markings, and colors. Pitcairnioidease members are not widely available.  

Question:
Our lemon tree seems to be dying as the leaves are falling off. It started after our Hot Tub developed a significant leak. Bromine and other chemicals in the water flooded the area. What will the bromine do to the tree? 
Answer:
Lemons do not tolerate high levels of bromide, and it's the cause of the leaf drop. The stems and branches then turn brown and die.
The immediate solution would to water heavily with clean water to leech the bromine out of the root zone. However, the area was flood with contaminated water, so that isn't an option. The rainy season will help, but it may be too late. Unfortunately, there isn't much else you can do but wait for spring. If you don't see any new growth by next May, I'd replace the lemon,