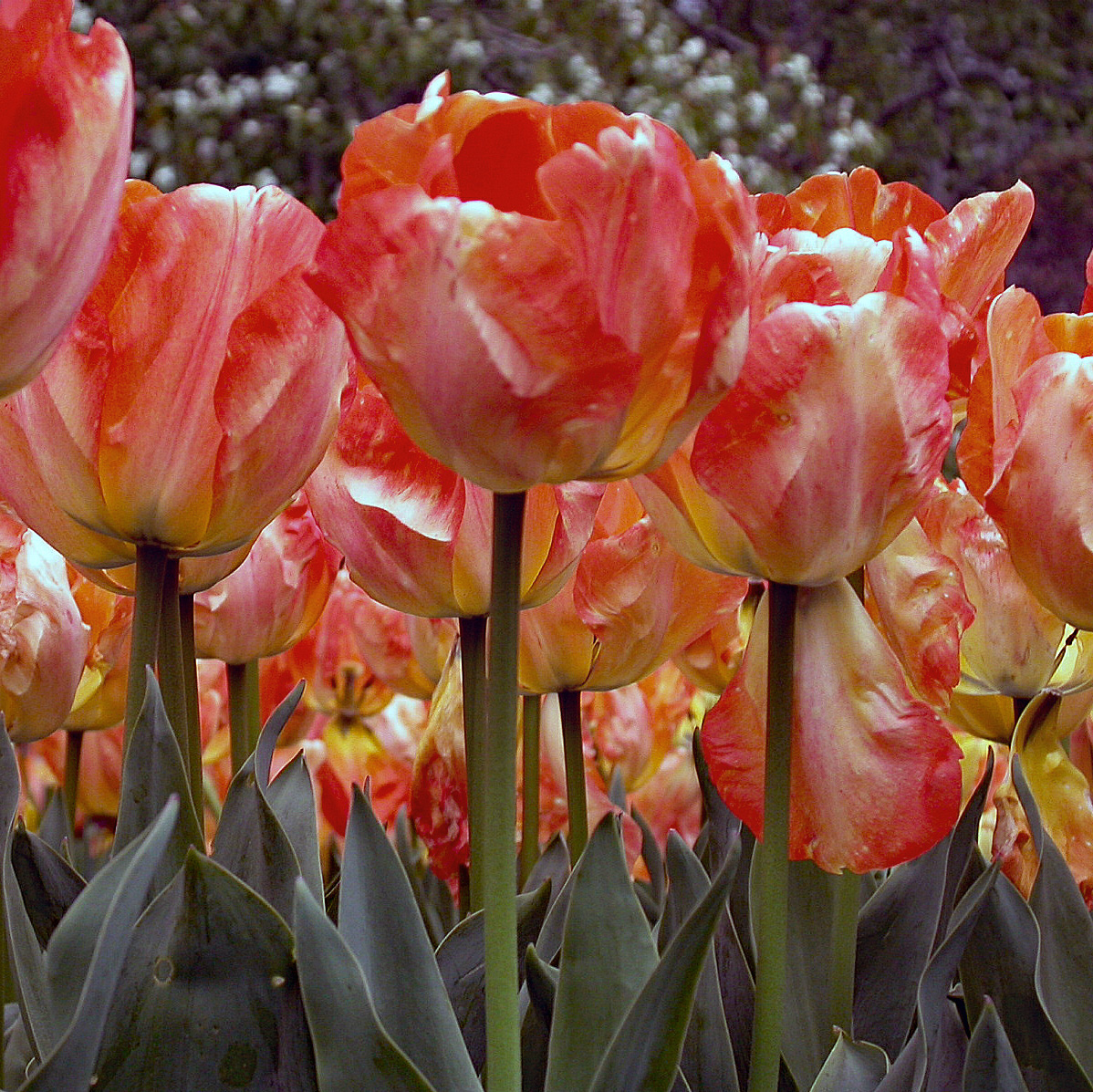 Question:
 

I planted a portion of my Tulip bulbs earlier. The rest are still in the refrigerator and will be planted late. Will the staggered planting extend the flowering season?          
Answer:
November and even December are excellent times to plant spring flowering bulbs, especially in containers. But, there is no advantage in staggering the plantings of tulips.
Tulips are grouped into early, mid-season, and late flowering varieties, such as Darwin (mid-season), Parrot (late), Double (mid-season), Lily (late), Fosteriana (early), and others.

The early season varieties emerge from the ground first, but it varies from year to year. With a warm October and November, it's not unusual for the bulbs to emerge from the round early.
Regardless, I would not be concerned about it. When winter arrives, the early sprouting tulips and bulbs, in general, will not be damaged by freezing temperatures.

 Thus, you extend the flowering period of tulips by planting some of all the different flowering types but grouping them together. It is a point frequently overlooked when purchasing tulips.
Besides the flowering time, the stem length is overlooked, as it varies by type. Instead of a showy, uniform mass of color next spring, the tulips bloom randomly at different heights. The expectation from the effort is spoiled, and it generates dissatisfaction.

Packaged bulbs are better at avoiding this than selecting a mix of varieties from open boxes.
This also contributes to the decline in residential tulip bulbs being planted nationwide. There is a lot of effort with little return.
Unlike Daffodils and other bulbs, tulips take several years to rejuvenate, whether left in the ground or dug up.
Hence, it would help if you planted new bulbs each year for the best color presentation year after year.
Question:
With a wet winter from an El Nino, Mushrooms will undoubtedly spring up in my front yard. I'm concerned that someone walking by will be poisoned by eating one, and I'll be sued. Is there a treatment that will stop them from returning? 
Answer:
Mushrooms are a fungus that thrives in moist, heavy soils. They'll dry up in the summer, leaving spores that reproduce and grow when the moisture returns.
Practically speaking, you can't do anything to prevent or eradicate mushroom growth during the rainy season.
Now, to the liability question. Every year, we hear of people being poisoned from eating wild mushrooms. I can't recall any case involving an individual(s) or a domestic animal dying from eating garden-type mushrooms.
While there is always a possibility, the probability is very slim. So, I'd be proactive and knock them over when they appear because they will return. You'll find more specific information about lawn and garden Mushrooms, including pictures, at the following site.